SEA Youth Leaders Connect
Campus Hiring | 13 September 2022 00:00 wib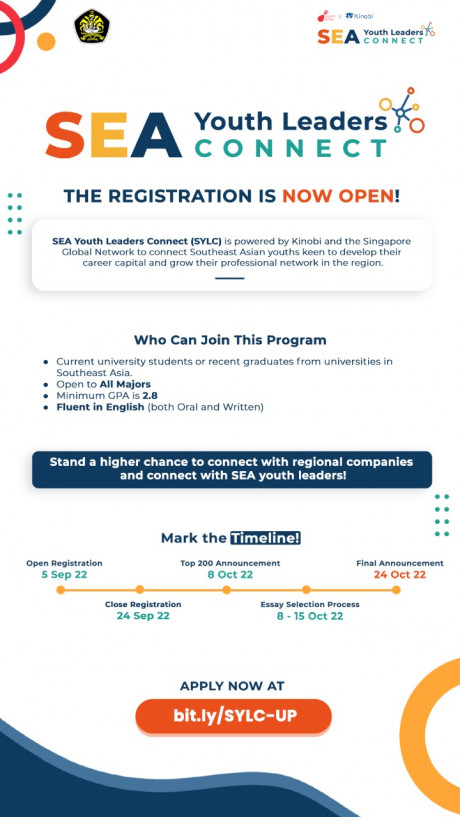 Ready to be part of the top young leader in Southeast Asia? Interested in directly preparing your career from career experts? Something big is coming for you! SEA Youth Leaders Connect is Happening! Application period: 5 September - 24 September 2022
Ready to be part of the top young leader in Southeast Asia? Interested in directly preparing your career from career experts? Something big is coming for you!
SEA Youth Leaders Connect is Happening!
Application period: 5 September - 24 September 2022
Kinobi and Singapore Global Network invite active students and fresh graduates from every university in Southeast Asia to join the 2022 SYLC Program!
The SYLC Program will be an exclusive program for career connection expansion and career preparation for students or fresh graduates in Southeast Asia who want to work in a multinational company! Further information about the SYLC Program will always be announced via LinkedIn Kinobi Indonesia and Instagram
@Kinobi.id
!
Ready to Connect with Regional Companies in Southeast Asia?
Finish the requirements here and register now at bit.ly/SYLC-IPMI